Gardens can be an essential piece to any Minecraft survival base or town. Especially to make it look homey or a peaceful location to visitors. We have come up with some of the best garden ideas for you and your Minecraft village. Let's look at some of the most spectacular Minecraft garden ideas and how to build them!
Koi Pond
Koi pond is a classic Minecraft Garden perfect for any base or town with a river. The bridge joins the gap between two lands with a beautiful dressing of flowers, lily pads, and bamboo shoots. Don't forget to add a few koi fish (or any fish) to make this area look stunning.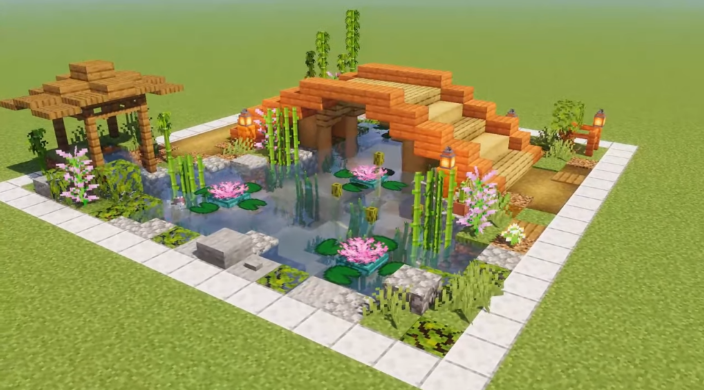 The mini gazebo also offers shade for the fish and rare plants as an addition to the dreamy view of this amazing Koi pond.
Build Tutorial: How To Build A Koi Pond | Minecraft Tutorial
Zen Garden
A famous Minecraft garden for most Minecraft players would be the Zen Garden. The Zen garden features a peaceful ambiance with an entry and exit path through wooden Torri gates.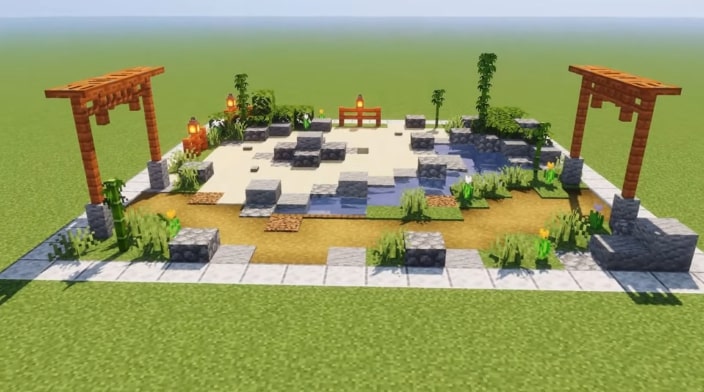 Inside, you will experience a simplistic variety of sand, stone, and flowers summing up a beautiful meditative Zen garden.
Build Tutorial: How To Build A Zen Garden | Minecraft Tutorial
Oriental Garden
With a wide range of foliage, sands, rocks, and many different plants, the Oriental Garden is a fantastic choice to add to your village.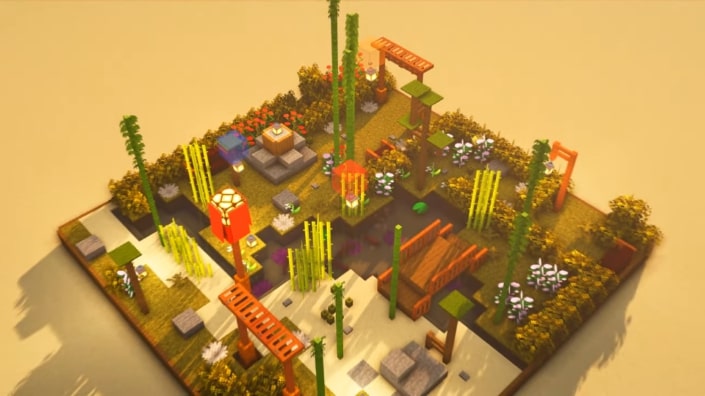 The uniqueness of this garden makes it almost impossible to pass for all of you creative builders. With glow stones to light the path with the appearance of mushrooms, this natural glow fits perfectly for the Oriental Garden.
Build Tutorial: Oriental Garden Tutorial
Minecraft Courtyard Garden
One of the most majestic Minecraft Gardens is the Courtyard. Typically found in a castle, hotel, or even the middle of a village. The courtyard is beautifully placed with paved pathways with hedges surrounding the paths. Along with a large water fountain streaming in the center.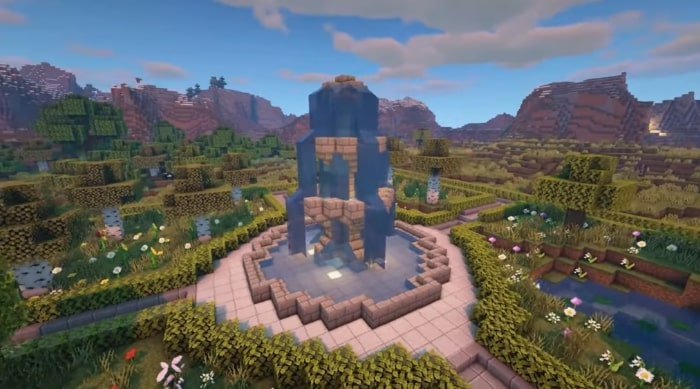 This Courtyard garden is worthy of adding to any of your built-up forts to give it a homie and comfortable feature!
Build Tutorial: Minecraft: How to Build a Fountain [Tutorial]
Minecraft Garden Tree Swing
Simple, cute, and overall just a much-needed addition to any Minecraft Garden. The Garden Tree Swing gives an innocent and peaceful feel.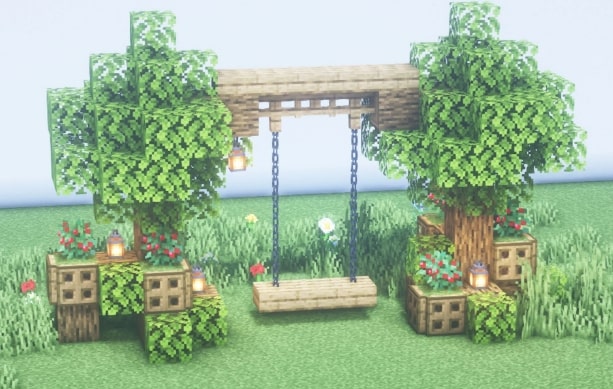 Overall this is a very easy build and design; you only need a few tools and materials to complete this look!
Build Tutorial: Minecraft Tutorial : Hanging Swing : Landscape Garden Decoration
Minecraft Garden Fountain
Another simple addition to a personalized garden is a Fountain! Fountains are essential to any Minecraft garden to give it a sense of completion. This simple design gives all builders a chance to create a fountain with easy materials and with a very little amount of effort.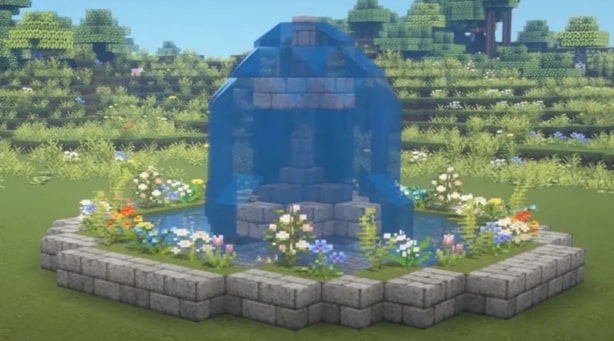 All you need is a few stone blocks built up until 4 or 5 blocks high, then add water on the top, and enjoy!
Build Tutorial: Easy Fairy Fountain Tutorial
Paved Rose Garden
A 17×17 block garden, the Paved Rose is perfect for any builder. With a gorgeous design of adored potted plants throughout the sides and two wooden arched entry points, this garden attracts anyone.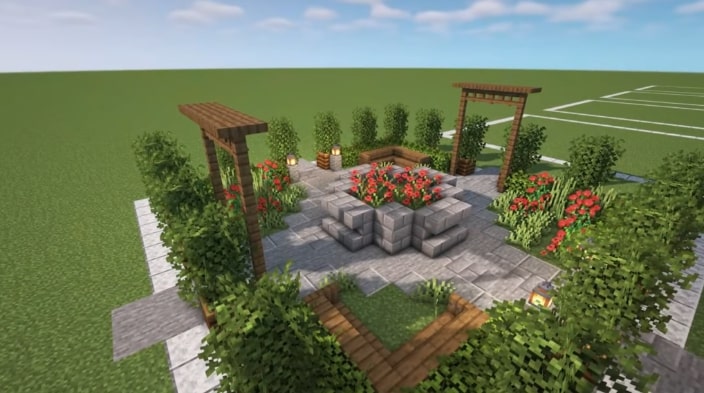 This garden also features a raised center of flowers of your pick, giving it a beautiful finished look. Not to mention space to add some wooden benches to make it a fun hang-out space for you and some friends!
Build Tutorial: Paved Rose Garden
Fairy Minecraft Garden
Quite the fairy tale appearance, the Fairy Minecraft Garden is perfect for anyone looking for something more dreamy and quaint.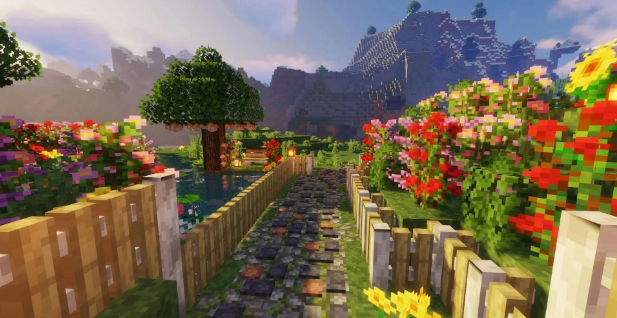 The example given above is completed with a texture pack giving it the desired look by the creator. Although vanilla Minecraft would work perfectly with this build, it would take the same items to build it.
Garden Archway
An Archway would be a great entry element to add to any Minecraft Garden. Which it's high dimensions it gives your garden a sense of elevation and is not simply exclusive to the ground.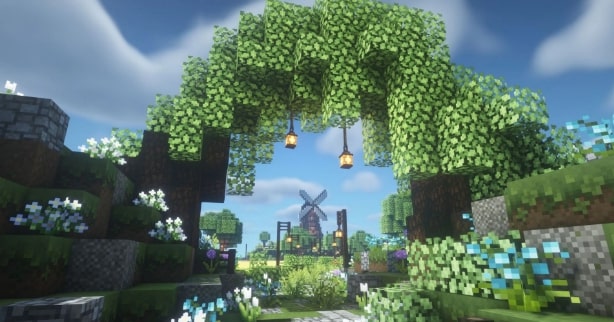 Archways can be made from stone blocks, wood, or bushes/leaves, which adds a nice natural look to your archway entrance.
Build Tutorial: Minecraft Garden Archway
Elven Water Garden
One of the most majestic Minecraft Gardens, the Elven Water Garden is beautifully built with white walls, wooden planks, and a jade-green tiled ceiling. Lamps also provide a source of light for this large structure.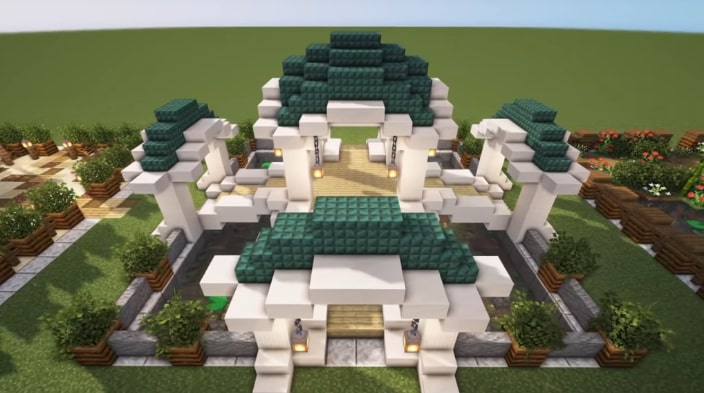 Below the building is a body of water surrounding the structure, with plants as barriers to avoid falling inside. It could work as an excellent underground base as well!
Wrapping Up
Minecraft has amazing structural ideas for anything, such as homes or gardens. Hopefully, we have inspired you to continue exploring more ideas for your garden ideas. There are many ways in which you can make these your creation if you don't like everything shown. Make your world your own!