We all look forward to that exciting moment when you have survived the beginning of Minecraft. After building a farm and a solid house to sleep in to protect from creepers and other monsters, it's time to start building your first Minecraft Mansion! But which Minecraft mansions are the best?
We have put together 20 of the top favorite Mansion builds in Minecraft. Luckily, you get to decide which is on is your favorite!
Top 10 Minecraft Mansions
Minecraft players have been shocking us for years with their skills in building and practicality in operating a world. Including how magnificent they have created millionaire mansions. We have put together some of the best-ever Minecraft Mansions builds and what makes them unique. Make sure to look through them all!
Woodland Mansion
Maybe the best Minecraft mansion when it comes to classic Minecraft builds, the Woodland Mansion is a great mansion to build your dreams from. The rustic medieval structure of this house brings an original look, along with iron windows, cobblestone base, and all of the different wood types as an addition.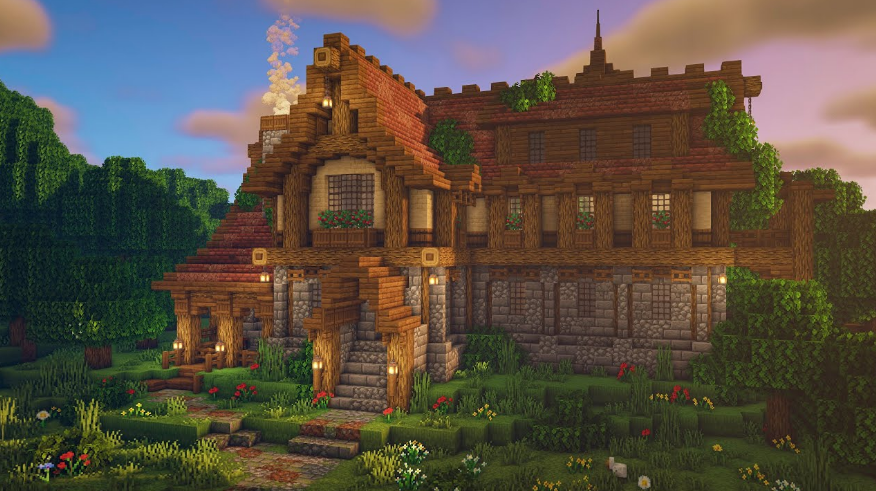 If you are interested in how to make the Woodland Mansion, here is the tutorial:
Winter Mansion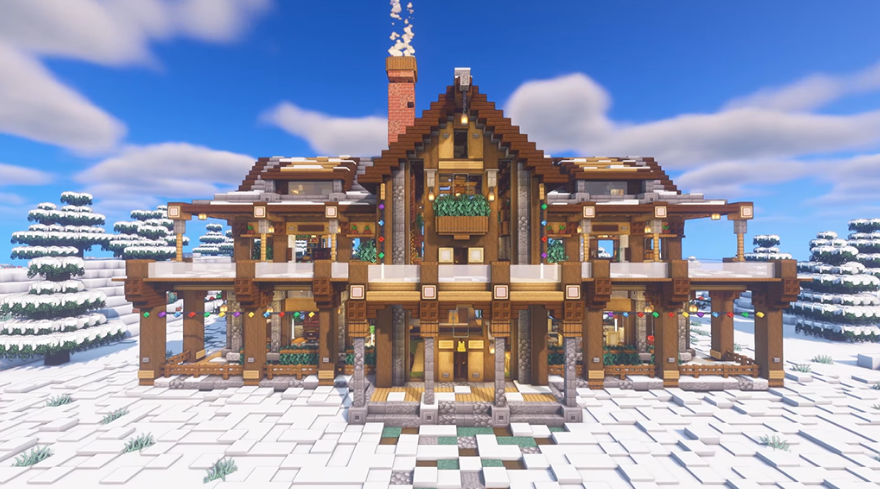 This is a perfect mansion to use to celebrate the holiday! Or just… be in the snow biome. The Winter Mansion is perfect for those snow lovers of Minecraft Mansions! Even Steve would want this added to his survival world. White stained glass, dark oak planks, and a hint of cobblestone give it that rustic nature. This mansion is truly one of the best. 
If you would like to learn how to build the Winter Mansion, here is the tutorial:
2-Player Survival Base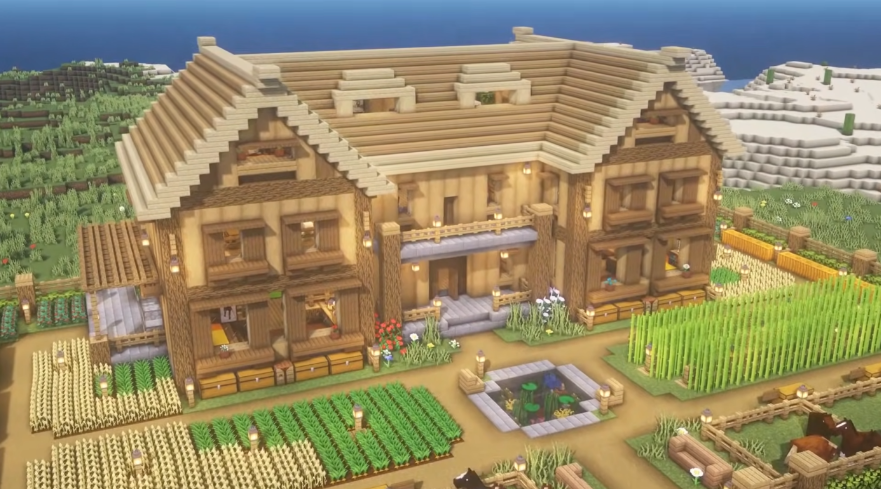 What is Minecraft survival without a friend or two? The 2-Player Survival Base is perfect for players who want to share a house but still want their personal space and storage. With 4 rooms on each side and a large field for farming with multiple chests, this house is perfect for thriving with your friends. 
If you would like to watch the tutorial on how to make the 2-Player Survival Base, watch this:
2-Player Survivor Base Tutorial
Giant Suburban Minecraft Mansions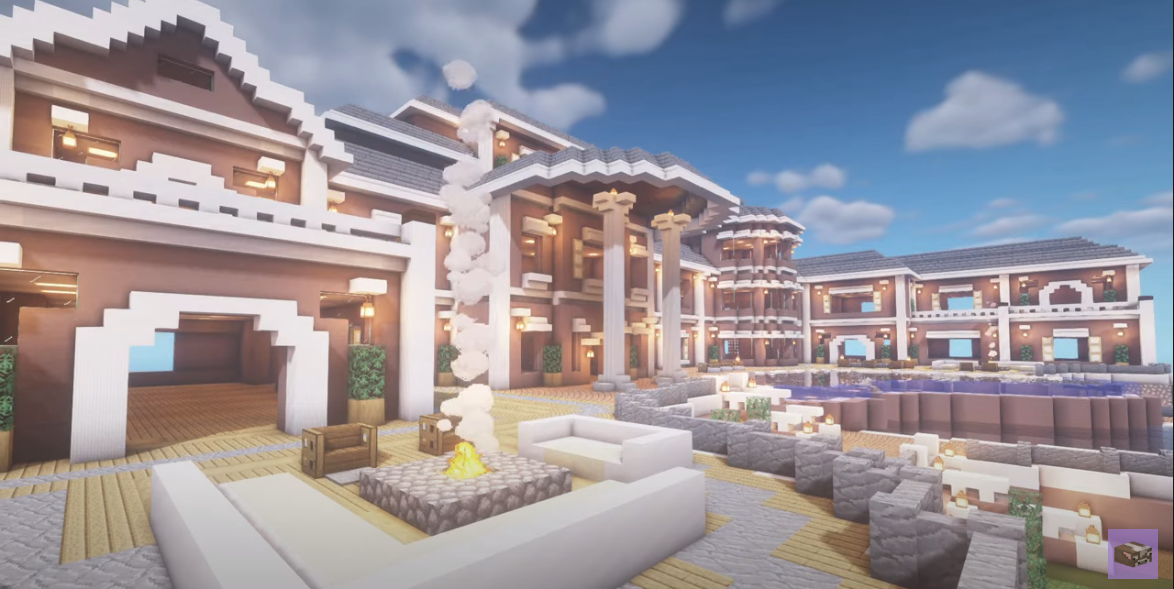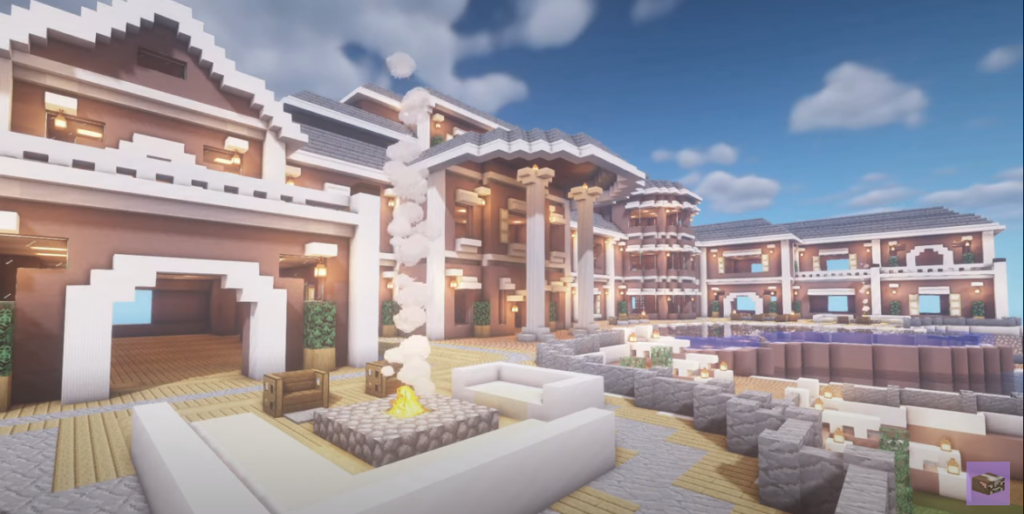 This mansion is one of the bigger beasts to complete. The Giant Suburban Mansion is one of Minecraft's biggest and most beautiful mansions. This house is great for Minecraft players who are needing a house for a party of other players or just want to show off their building skills. 
Keep in mind that this house has a 4-part tutorial that could take days to weeks to finish, so if you would like to build it, make sure you take enough time out of your week to devote to this project. This mansion can be built in any Minecraft biome. 
Here are the 4 tutorial videos of the Giant Suburban Mansion:
Mushroom Minecraft Mansions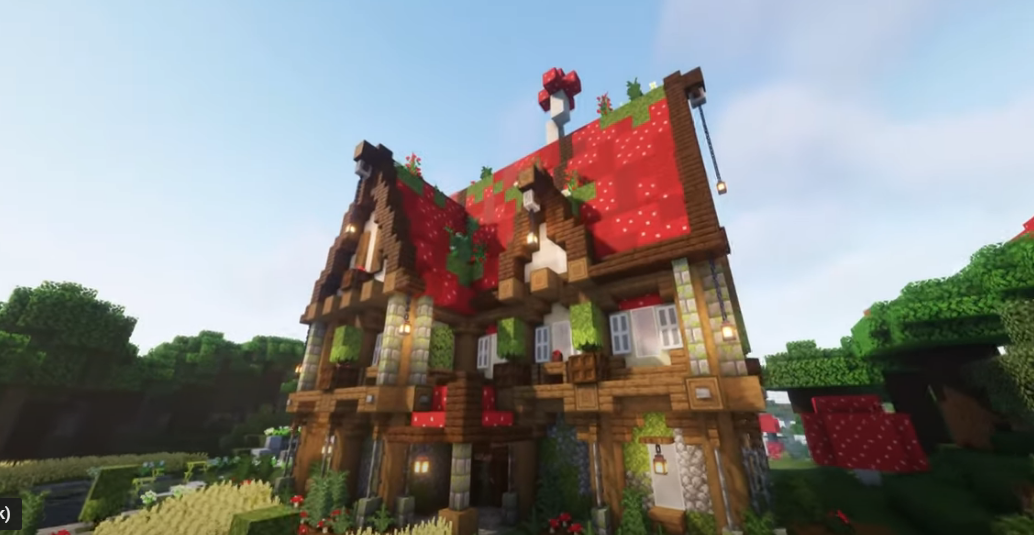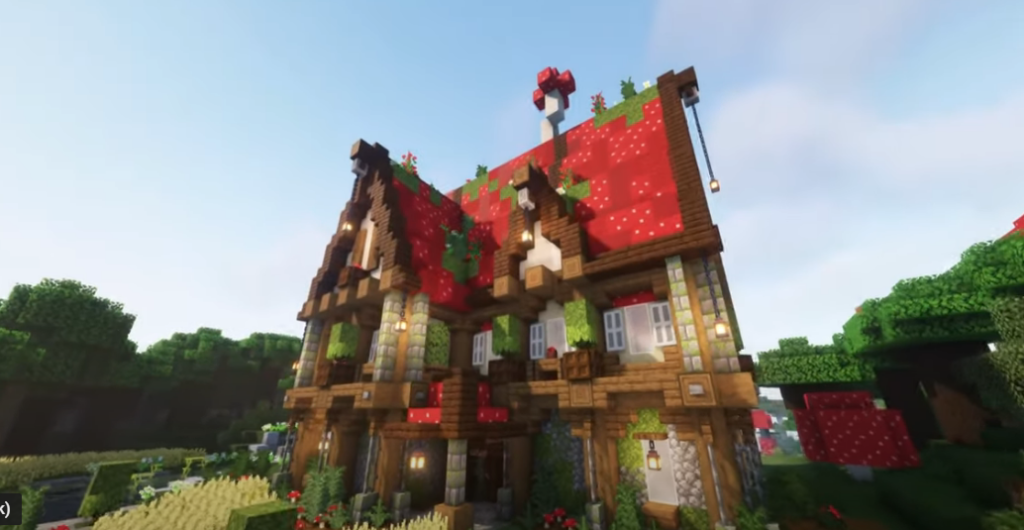 Seeming to come from a fairy tale, this mansion is a great addition to anyone's base who wants something more creative and different than the average mansion. This mansion gives a cute cottage look, with hanging lamps and surrounding wheat farms. The most difficult part might be getting all the unique materials for this Minecraft home. 
If you would like to learn how to build the Mushroom Mansion, here is the tutorial:
Medieval Mansion Minecraft Home
If you are looking for a perfect medieval mansion, don't look more than for the most classic Medieval style mansion in Minecraft. This mansion has the perfect layout to fit any woodland biome, winter biome, or even jungle. The Medieval Mansion contains not only a cozy house feeling but also a lookout tower in the center to give it a different spin between the tower and house compilation.
If you would like to watch the tutorial on the Medieval Mansion, check out the video below:
Exterior: Medieval Mansion Tutorial
Interior: Medieval Mansion Tutorial – Interior
Clean Modern Minecraft Mansions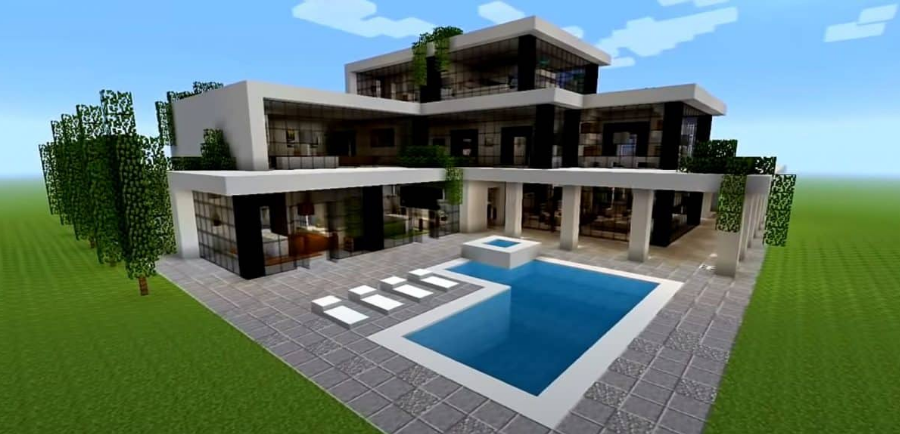 If you want a really fun modern design, this house is perfect for the job. With a light-up pool, a modern outdoor courtyard, and a unique L shape house design. This house is great for your Minecraft modern lovers. 
If you would like to know how to build this mansion, here is the tutorial:
Contemporary Minecraft Mansions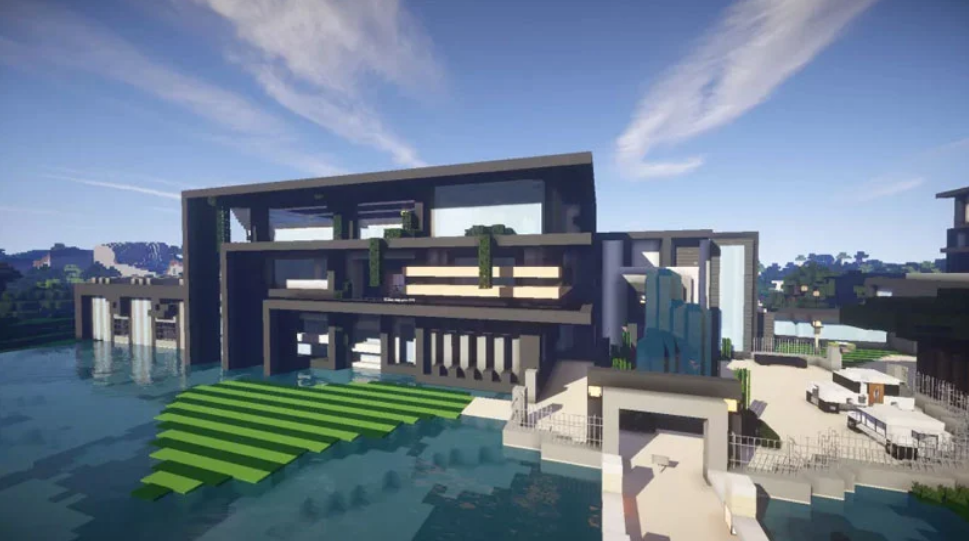 If you're looking for a luxurious contemporary mansion with a pool and an incredible interior design, this house is for you! This Minecraft mansion fits perfectly with a woodland biome or anywhere close to the beach or a lake.
Unfortunately, we were not able to find the tutorial for this specific mansion, but here is a tutorial for a similar design that is just as marvelous:
Modern Mountain House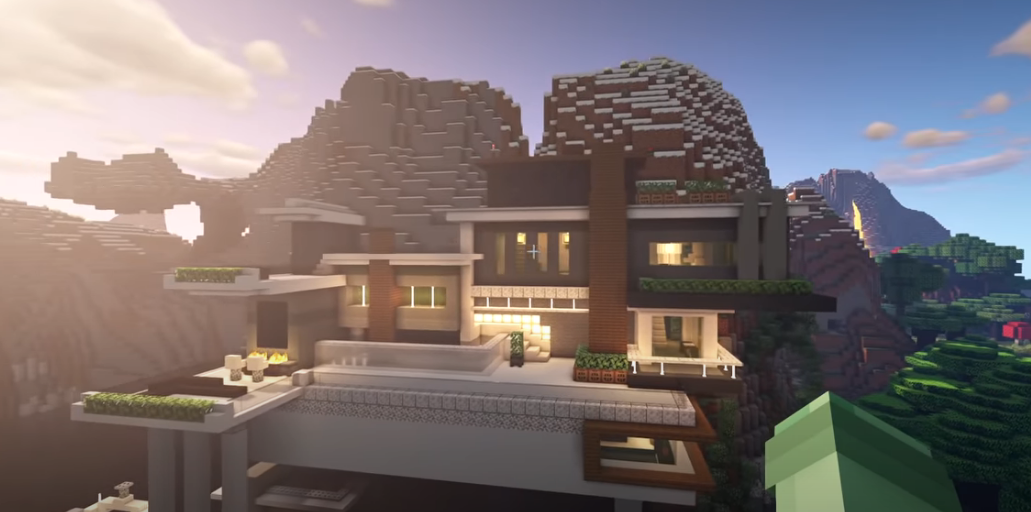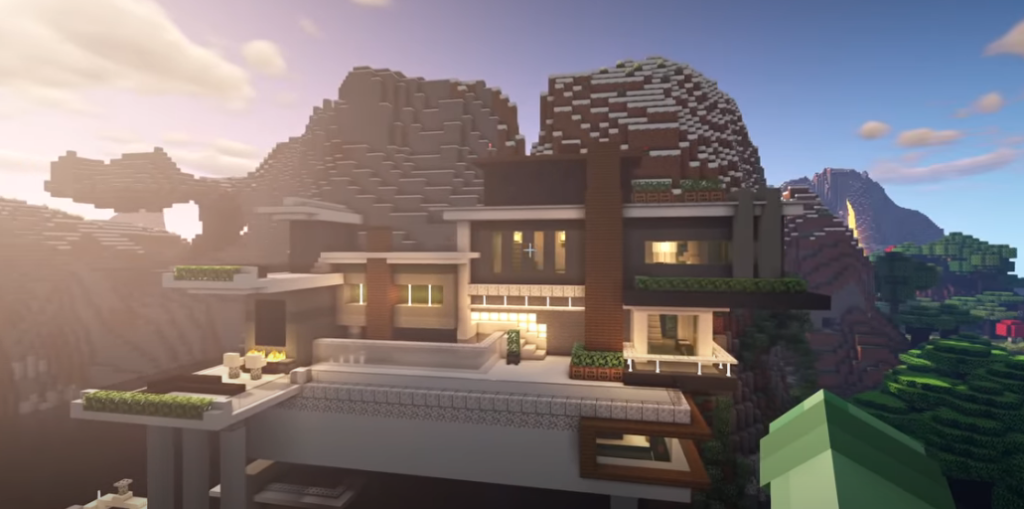 If you are that solo mountain guy that just likes to get away from everyone but wants the modern touch, this mansion is perfect for you! The Modern Mountain House is a 3-story modern designed mansion with tons of windows and not to mention beautiful scenery! Although this one could be a challenge to build, the end pays off!
Tutorial for the Modern Mountain House:
Modern Mountain House Tutorial
Italian Mansion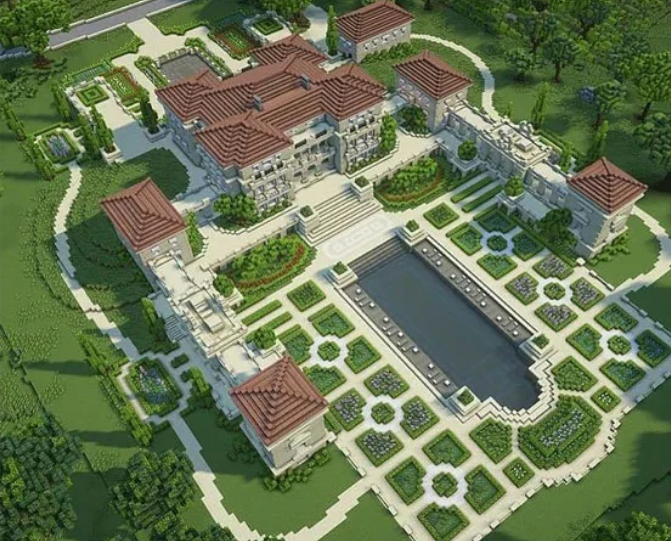 A magnificent mansion in which the tutorial is either difficult to find or just doesn't exist. Admiring how big and breathtaking this Italian Mansion show is incredible. This mansion took weeks to put together!
If you would like to build a similar Italian Mansion, here is a link to a tutorial: